June 26, 2020
NAFCU gives State of the Industry attendees inside look at Washington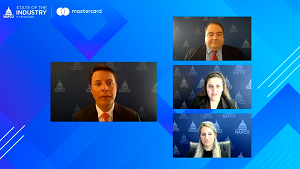 Members of NAFCU's award-winning advocacy team provided an inside-look at Washington during Thursday's State of the Industry event – both recapping what has been done so far to help credit unions and consumers weather the coronavirus pandemic and what the industry can expect in the coming months.
The panel, moderated by NAFCU Director of Political Affairs Chad Adams, featured NAFCU Vice President of Legislative Affairs Brad Thaler, Vice President of Regulatory Compliance Brandy Bruyere, and Director of Regulatory Affairs Ann Kossachev.
Legislative Update
Thaler provided some background on the coronavirus relief packages passed so far by Congress and said the Senate could release its proposal in late July, with the intention of passing it in early August before the recess for the presidential conventions.
In its advocacy on Capitol Hill, Thaler said NAFCU is working to keep out provisions that could harm credit unions – including those related to expanding interchange fees to credit cards, overdraft, and broad mandated forbearance. The association also continues to seek as much relief as possible, especially under the member business lending (MBL) cap, capital, and the current expected credit loss (CECL) standard.
He also shared insights into how the presidential election could impact congressional priorities, noting that if the power structure remains the same (with Republicans controlling the presidency and Senate), a lot could get done during the lame duck session. If Democrats win the presidency, they would likely want to advance their priorities in January.
Thaler also discussed the outlook for NCUA Board nominee Kyle Hauptman being confirmed this session. He said confirmations can be difficult leading up to a presidential election, but as Hauptman currently works for Senate Banking Committee member Tom Cotton, R-Ark., and is known to the committee, he could likely get a hearing and advance out of the committee. However, floor consideration could become political.
Thaler also discussed two key credit union issues: Housing finance reform and CECL. He said the coronavirus pandemic has pushed major housing finance reform efforts aside, but expects it to return to the forefront once the crisis is over with the hopes of major reforms being passed by 2024. On CECL, Thaler noted several lawmakers' concerns about the standard's negative impact on financial institutions' ability to lends in times of crisis. Although Congress doesn't typically legislate on accounting standards, they will likely continue to push the Financial Accounting Standards Board for more reviews and changes to the standard.
In closing, Thaler encouraged credit unions to join NAFCU's advocacy and remain in contact with lawmakers to help shape what gets done in Washington. Credit unions can use NAFCU's Grassroots Action Center or contact the advocacy team to get involved.
Regulatory Update
Kossachev shared NAFCU's advocacy focus at the NCUA has been on obtaining capital flexibility, ensuring access to liquidity, and relief during examinations. She noted the NCUA has granted some relief in recent months, including on prompt corrective action and some exam flexibility, and also recapped yesterday's NCUA Board meeting (read more here).
At other agencies, Kossachev highlighted NAFCU's work with the Small Business Administration and Treasury Department to ensure credit unions can lend effectively through the paycheck protection program (PPP), including to make the forgiveness process easier and grant automatic forgiveness for loans under $150,000. She also discussed the impact mortgage forbearance requests are having on credit unions and NAFCU-sought relief provided by the Federal Housing Finance Agency (FHFA) related to principal payments.
Kossachev also discussed leadership at the NCUA, noting that if Hauptman gets confirmed the board may continue to pursue regulatory relief and modernization of rules. If Hauptman is not confirmed before the presidential election and the Democratic candidate wins, a new NCUA Board nominee could be nominated, which could change the agency's priorities.
At the CFPB, Kossachev reviewed legal challenges to the bureau's single-director structure and said the Supreme Court decision on the issue could be issued in early July. Current CFPB Director Kathy Kraninger's term is set to expire in 2024, but if the structure is ruled unconstitutional and a new president decides to remove her, the bureau could change its approach to enforcement and supervision.
Kossachev also discussed regulatory efforts on housing finance reform, including the FHFA's recently re-proposed capital rule for the government-sponsored enterprises (GSEs) and other moves to remove the GSEs from conservatorship. She also shared concerns about the CFPB's proposed qualified mortgage rule. She reiterated that NAFCU wants broader housing finance reform to ensure certain statutory guarantees for credit unions, rather than just recap and release for the GSEs.
On CECL, Kossachev highlighted NCUA Chairman Rodney Hood's recent request to FASB to exempt credit unions from the standard. She also noted that while NCUA examiners are ensuring credit unions are working on implementation plans, the agency is considering a three-year phase-in plan to limit its Day 1 impact.
In closing, Kossachev said regulators are likely to continue focusing on regulatory relief amid the coronavirus pandemic. She also encouraged credit unions to continue investing in diversity, equity, and inclusion as there have been concentrated efforts on this issue amid social unrest caused by inequality and injustice.
NAFCU recently hosted a complimentary webinar with the NCUA on DEI efforts –
watch it on-demand here
.
Compliance Update
Bruyere started off by reminding credit unions of the upcoming compliance date of Regulation CC changes, which limits how long credit unions can hold checks. She also noted questions the NAFCU Compliance Team has received recently related to lending issues, credit union bylaws and holding remote meetings, and virtual exams. Bruyere also shared insights should any of the regulatory agencies see turnover in the coming year.
On exams, Bruyere said while the NCUA intends to be flexible amid the coronavirus pandemic, institutions are reporting the same scope and requests as previous years. The virtual environment is causing exams to take a little longer, and there have been more requests related to business continuity planning, managing risk – especially as credit unions participate in the PPP and make loan modifications.
Amid the coronavirus pandemic, Bruyere discussed increased compliance risks that are impacted by economic downturns and increase in job loss, such as collections and foreclosures, as well as mortgage servicing rules. She also gave an update on the litigation landscape as credit unions continue to see class action lawsuits filed related to overdraft programs.
In closing, Bruyere reminded credit unions that NAFCU's Compliance Team is here to help, answering questions within one business day and publishing regular blogs and publications to keep credit union compliance professionals informed of changes.
More than 2,000 attendees joined NAFCU's landmark State of the Industry event Sessions from the event will be available to watch on-demand online and on the event app Monday.
Related Resources
---
Get daily updates.
Subscribe to NAFCU today.