May 29, 2018
Weekly wins: Reg relief adopted, RBC-delay advances, NCUA heeds NAFCU on PALs reforms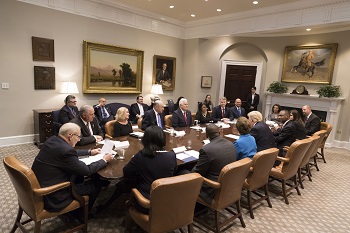 NAFCU and credit unions achieved wins on many priorities last week that will improve the regulatory environment in which the industry operates. Most notably, after years of NAFCU advocacy and credit union grassroots efforts, the industry secured meaningful regulatory relief as President Donald Trump signed into law the NAFCU-backed Economic Growth, Regulatory Relief and Consumer Protection Act (S. 2155).
Here is an overview of progress made last week on key issues; many of these will be talked about in detail during NAFCU's upcoming member call on June 13:
Regulatory Relief
President Trump signed the NAFCU-backed regulatory relief package (S. 2155) into law Thursday following months of NAFCU advocacy in support of the bill. Prior to its passage, NAFCU President and CEO Dan Berger along with NAFCU's advocacy team held numerous meetings on Capitol Hill to gather support for S. 2155. In February, Berger, along with numerous credit union CEOs, met with Trump to discuss industry issues – including regulatory relief.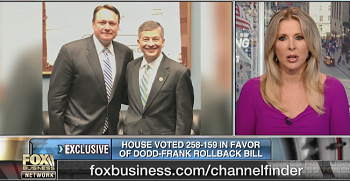 Berger joined Fox Business Wednesday to discuss the positive impact the law will have on credit unions and American consumers. Berger noted the provisions will allow credit unions to provide more loans to support small business and American consumers. It will also provide relief under the Home Mortgage Disclosure Act's reporting requirements; more details on the NAFCU-supported provisions of the bill can be found here.
NCUA's Risk-Based Capital (RBC) Rule
In recent weeks, NAFCU efforts have led to the inclusion of language to delay the implementation of the NCUA's RBC rule by two years in two major pieces of legislation: the House Appropriations Financial Services and General Government's appropriations bill, and the Foreign Investment Risk Review Modernization Act of 2018 (H.R. 5841).
The language included in both bills comes from the Common Sense Capital Relief Act (H.R. 5288), which was introduced by Reps. Bill Posey, R-Fla., and Denny Heck, D-Wash., in March. Berger recently met with Posey and Heck to thank them for their ongoing efforts to protect the industry from the adverse effects of this rule. NAFCU will continue to advocate for House members to support a delay of the RBC rule in the legislation.
Payday Alternative Loans (PALs)
After 10 years of offering a PALs program, the NCUA Board last week issued a proposed rulemaking to enhance credit unions' short-term, small-dollar loan offerings. The proposed PALs changes would not replace the current PALs rule, but would be an alternative option.
NAFCU has long advocated for additional mechanisms to allow credit unions to provide more small-dollar loans to members in need and last year hosted a small-dollar lending working group to explore additional small dollar lending options for credit unions.
Americans with Disabilities Act (ADA) Website Accessibility
NAFCU continues to support credit unions facing litigation over unclear website accessibility requirements under the ADA. Last week, the association filed its 10th amicus brief in the effort; five of the lawsuits in which NAFCU has filed an amicus brief have been dismissed.
In addition to providing legal support to credit unions, NAFCU is active on Capitol Hill seeking clarification of regulatory standards for websites. Language was recently added to a House Appropriation's measure that would require the Justice Department (DOJ) to clarify website accessibility standards under the ADA, and Reps. Ted Budd, R-N.C., and Lou Correa, D-Calif., are currently circulating a letter among House members to urge the DOJ to resolve the issue as soon as possible. NAFCU encourages credit unions to contact their representatives about the issue through the association's Grassroots Action Center.
Credit Union Tax Exemption
Thirteen pro-business groups, including the Competitive Enterprise Institute and Americans for Tax Reform, sent a letter last week to Senate Finance Committee Chairman Orrin Hatch, R-Utah, to defend credit unions' federal income tax exemption. NAFCU was successful in maintaining the industry's tax-exempt status throughout tax reform efforts last year.
Cybersecurity
During a hearing last week, Senate Banking Committee Chairman Mike Crapo, R-Idaho, and Ranking Member Sherrod Brown, D-Ohio, made clear they intend to focus the committee's efforts on cybersecurity now that the regulatory relief package has been signed into law.
NAFCU has been active with lawmakers since the massive 2013 Target data breach stressing the need for a legislative solution to reform the nation's data security system, and has been a leader in advocating for national data security standards – akin to those followed by credit unions – in an effort to curb future breaches.
Housing Finance
Berger met with Federal Housing Finance Agency (FHFA) Director Mel Watt last week to discuss the FHFA's efforts to strengthen the housing market and advocated for the creation of a pilot program to ensure a secondary market for affordable mortgage options.
During a Senate Banking Committee hearing later in the week, Watt discussed a number of issues that concern credit unions, including maintaining 30-year fix mortgages and addressing the lack of affordable housing.
NAFCU remains engaged with lawmakers and agency officials to advance the association's core principles for housing finance reform.
CFPB's Indirect Auto Lending Bulletin
Trump last week signed the repeal of the CFPB's 2013 bulletin regarding indirect auto lending. In response, CFPB Acting Director Mick Mulvaney said the bureau would reexamine the requirements of the Equal Credit Opportunity Act.
While NAFCU and credit unions strongly support fair lending, the association worried that the bulletin could potentially set the stage for making indirect lenders, including credit unions, liable for fair lending violations by auto dealers.
Related Resources
Add to Calendar 2021-01-14 14:00:00 2021-01-14 14:00:00 HMDA Fundamentals & Advanced Topics for Accurate Reporting Learn essential HMDA points that will aide both beginners and experienced HMDA personnel in quickly and accurately determining the reportability of transactions and the correct completion of specific HMDA fields.  It is easy to get lost in the nuances of the Home Mortgage Disclosure Act. This webinar will cut through the haze and share crucial information for a strong HMDA program, including where to locate the guidance. Topics Covered Revised mandatory reporting and partial exemption thresholds.  Defining an application for HMDA.  Covered and excluded dwellings including mixed use properties.  Excluded transactions including all about temporary financing.  Conditional versus final approvals.  Special rules for early decisions with missing information.  Key Takeaways Helpful hints for a full understanding of requirements and accurate decision making.  Where to locate the various types of guidance available.  Tips for establishing a solid HMDA program to enhance accuracy and ease testing and scrubbing. Purchase Now$295 Members | $395 Nonmembers (Additional $50 for CD)One registration gives your entire credit union access to the on-demand recording until January 14, 2022.Already registered? Go to the Online Training Center to view live. Who Should Attend? NAFCU Certified Risk Managers (NCRMs) NAFCU Certified Compliance Officers (NCCOs) Compliance Titles Risk Titles Education Credits NCRMs will receive 1.5 CEUs for participating in this webinar. NCCOs will receive 1.5 CEUs for participating in this webinar. CPA credit information is below; recommended 1.5 CPE credits. CPA Certification Credit Information Reviewer: Josie Collins, Associate Director of Education, NAFCU Learning Objectives: Helpful hints for a full understanding of requirements and accurate decision making. Where to locate the various types of guidance available. Tips for establishing a solid HMDA program to enhance accuracy and ease testing and scrubbing.  Program Level: Basic Prerequisites Needed: None Advance Preparation Needed: None Delivery Method: Group Internet-Based Recommended CPE Credits: 1.5 credits Recommended Field of Study: Regulatory Ethics – Technical National Association of Federal Credit Unions (NAFCU) is registered with the National Association of State Boards of Accountancy (NASBA) as a sponsor of continuing professional education on the National Registry of CPE Sponsors. Learn more. About Our Webinars Our webinars are streamed live from NAFCU headquarters near Washington, D.C. Your audio/video feed of the presenters includes presentation slides and downloadable handouts. You can easily submit your questions to the presenters at any time during the live broadcast, with no dialing over the phone! The audio and video stream directly through your computer. Web NAFCU digital@nafcu.org America/New_York public
Credits: NCRM, NCCO, CPE
Webinar
Credit Unions, Education, Risk Management, Growth & Retention, Current Affairs
preferred partner
Franklin Madison
Blog Post
---
Get daily updates.
Subscribe to NAFCU today.